Focused & Dedicated to the Growth of our Community.
The Economic Alliance of Lewis County is a public-private partnership whose goal is to contribute to the economic vitality of the community by increasing the number of jobs and improving the local quality of life. To accomplish our goal we work to recruit new businesses to the area and to retain our local businesses by aiding in their expansions.
Our goal is to contribute to the economic vitality of the community by increasing the number of jobs and improving the local quality of life. To accomplish our goal we work to retain our local businesses and aid them in expanding as well as recruit new businesses to the area.
To that end we have assisted over eighty firms locate here, which provide over 2,300 jobs to our community. In addition, we have worked with over 250 local firms, helping them to expand or strengthen their operations. Finally, the Economic Alliance partners with 100's of members in business, government, and community groups to solve transportation, utility, and regulatory problems.
Our main mission is to persuade businesses to locate, expand, and remain in this area rather than in any other location. Our marketing efforts are focused on specific industry strengths our community has: wood products, food processing, glass, plastics, chemicals, telecommunications, and healthcare. Our outreach efforts to recruit these companies include: electronic advertising, search engine optimization, trade shows, direct e-mailing, and other methods.
Business retention and expansion (BRE) is a core program of the Lewis Economic Development Council. This program is designed to keep existing businesses in the community. To do this we reach out to business districts, commercial & industrial areas, and specific industries throughout the county and learn how to help these companies stay in our area. These visits often begin with the history of the organization, include tours to better understand the business, and end with requests to assist their business.
The BRE program is also designed to help existing businesses expand their operations in our community. Like the retention part of the program we reach out to business districts, commercial and industrial areas, and specific industries. Our expansion visits are focused though on providing any needed assistance to help the business grow. This often includes helping companies find properties, connecting potential deals for their business growth, or even helping them make connections to save money and be able to hire more employees.
Richard DeBolt
Executive Director
Richard is a Lewis County resident of over 25 years. Before  accepting the Executive Director position, he had spent 20+ years working as the ranking member of Capital Budget Committee
in Olympia as well as the Ranking Member of Technology and Economic Development Committee. Richard has a future growth mindset and always has a task at the forefront. His focus of bringing unity to Lewis County while at the same time driving energy into economic development to boost the local economy is evident with work that the Economic Alliance has achieved in the past year. Richard magnifies the team-oriented, leadership approach that every organization desires. His ability to draw out the strengths of his team enables him to maximize the potential of all aspects of the organization and community that he is involved in.
Eric Sonnenberg
External Relations Manager
Born in Centralia, raised in Chehalis. Graduated W.F West in 2006. Eric has been in
sales and customer service since 2009. He currently resides in Chehalis with his Wife
Tate and Three Kids, Macy, Kade and Beck. He has been working with the Economic
Alliance for the last three years.
Dolly Tardiff
Business Development Center/Program Manager
I was born at Madigan Hospital in Tacoma and raised in Lacey, WA. The Chehalis/Centralia area has been my home for over 32 years and has been a great place to raise my two grown children ages 24 & 21 years old. I own a local Security Company which was started in 1992 and I am also currently employed by the Economic Alliance of Lewis County. One of my favorite things in life is time spent with my family & loved ones.
Micheal Wagar
Communications Strategist
Michael Wagar graduated with a degree in journalism from Western Washington University. After college Michael spent about three decades working in newspapers. He started out as a reporter, then was promoted to assistant editor, managing editor, publisher and finally as president, about 20 of those years working at The Chronicle in Centralia.
Michael lives in Mossyrock. He enjoys boating on Mayfield Lake and having family and friends over for food and conversation.
Todd Chaput
Initiative's Program Manager
I accepted my current position with the Economic Alliance of Lewis County in July of 2021. My title and primary focus is the Program Management for Infrastructures Initiatives via ARPA Funds (American Rescue Plan Act). Our goal, in concert with Lewis County and the Cities of Chehalis and Centralia, is to develop an interactive GIS Map that will enable local, county and state agencies as well as private organizations to see all planned development throughout the county on a single map. This will provide greater opportunity for collaborative efforts that will encourage a "Dig Once" policy and create efficiencies and cost savings to the taxpayers as well as improve services.
This is what Economic Development is all about. Provide accurate data to stakeholders, improve transparency, and expand development opportunities. I saw this as an opportunity to help facilitate economic opportunities for our
community, employers, and their family. I am excited to be part of a forward-thinking organization and look forward to working with a great team.
Lenee Langdon
Tourism Alliance- Project Coordinator
Lenee Langdon, former East Lewis County Chamber Director, and newest Alliance staff member will serve as the community liaison working with community organizations. Prior to joining the Chamber, Lenee worked for both Holland America and Seabourn cruise lines. Her focus will be Tourism, with a goal of being a valuable economic development partner in Lewis County by attracting and servicing visitors, generating new income for the county, providing steady employment, and increased tax revenues.
Amy Buzzard
Grant Manager
Centralia has been my home for over 40 years. I have worked with local nonprofits for the past 17 years serving as chair and acquiring several grants. I have served as president of the Centralia School Board for the past 9 years. I am devoted to supporting community revitalization, equitable access to community services and the arts. I am excited to join the fantastic team at the Economic Alliance of Lewis County as Grant Manager. Outside my professional life, I am passionate about music and enjoy spending time with my four children.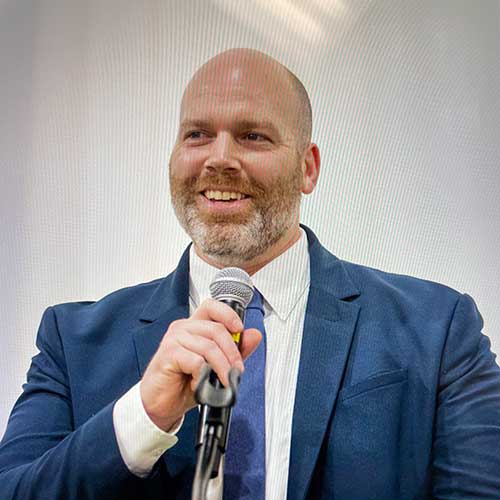 Luke Moerke - Chair
Exodus Engineering
Luke was born and raised in Lewis County. His grandfather and father both operated successful businesses in Lewis county in logging and well drilling respectively. Luke currently operates Exodus Engineering, where they provide engineering support for residential and commercial buildings, residential home design and drafting, commercial plan support and drafting, and site plans.
Stuart Cavness - Vice Chair
First Allied Securities
Stuart Cavness is a fifth generation Lewis County resident and enjoys giving back to his community through his participation as Vice Chair for the Economic Alliance of Lewis County and company advisor to Business Week. Professionally, he is a financial planner and in his free time he enjoys cruising and racing sailboats, reading extensively, and restoring his vintage automobiles. 
Cindy Sorenson - Treasurer
Sorenson Transport
I am President of Sorenson Transport Co. Inc. and was born and raised in Chehalis WA. I graduated from WF West in 2005 and Portland State University in 2010.
Dr. Bob Mohrbacher
Centralia College
Bob Mohrbacher has been the president of Centralia College since 2016 and has worked in the Washington Community and Technical College system since 1992. He is a former member of the Adams County Economic Development Council and is currently on the Board of Valley View Health Centers, the Centralia College Foundation, and the PacMtn Workforce Development Council.
Brandon Johnson
JSA/Civil
Principal and Cofounder of JSACIVIL, LLC. Providing land development engineering services for clients throughout the West.
Cameron McGee
City of Centralia
Cameron was born and raised in Centralia. He is the owner of Calypso Window Washing and currently sits on the Centralia City Council. 
Chad Taylor
The Chronicle
Chad and his wife Coralee have been married 25 years and have two grown children Amber and Franklin, and two grandchildren, Everley and Sadie. Chad is the CEO of The Silver Agency, a marketing firm in Chehalis, and serves as the Publisher within CT Publishing, their news organization with newspaper assets in Centralia, The Chronicle, Yelm, The Nisqually Valley News, and in Battle Ground, The Reflector. They also own a sign company, SignPro. Chad served on the Chehalis City Council for 19 years, serving as Mayor ProTem for two terms retiring in February 2021. 
Julie Shaffley
Port of Centralia
Julie Shaffley is the owner of Good Health Nutrition Center in Centralia for over thirty years. Julie is also a Port of Centralia Commissioner since 2015.
JT Mundi
Kodenum, Inc.
JT Singh Mundi is founder of Kodenum Inc and Petro America Inc in Chehalis, WA. After completing his B.S. in Computer Science from Washington State University. JT dedicates time to philanthropic and leadership roles in support of the local community. This includes service as Board Member of Economic Alliance of Lewis County and as Co-Founder of Encompass Engine.
Scott Brummer
Lewis County Commissioner
Commissioner Brummer is committed to representing the people of Lewis
County, to listen and to be involved in the county's communities. He has called
Lewis County home for 28 years. His priorities are to be good to his word to
constituents and looks forward to effecting policy for what's right for citizens,
including veterans, seniors and those with property tax concerns.
Commissioner Brummer and his wife, Kristine, have raised three children here
and now have three grandchildren. He shares a passion about where we live and
keeping our small-town values that make Lewis County great!
For more than 20 years, he served the region as the Washington State
Department of Fish and Wildlife habitat biologist. His career with the state
focused on solving problems from flooding, bank erosion, and sustainable timber
harvest.
Commissioner Brummer has a Bachelor of Science in biology. He has
experiences as a farmer, as the owner of a small farm and feed business and as
senior pastor of God's Place church in Ethel. He also has extensive experience
with budgets, accounting, finance, and regulatory requirements. 
Kirk Vigre
Dry Box, Inc
Lewis County Native, Mossyrock High School graduate, I enjoy Family life, the Outdoors, community involvement and operating a local business. Its and Honor to be a member of this Board and support the strategic economic growth of our community. DRY BOX INC- President and Founder 2007 to Current (14 Years) Alstom Power- (10 Years) Field Engineer, Gas Turbine Power Generation, New Erection & Overhauls. US NAVY (6 Years) GSM-1, Mechanical Gas Turbine Technician
Bob Guenther
Thurston Lewis Mason-Central Labor Council
Working to retain and facilitate jobs that pay the states average wages and benefits for like skills. Support workforce training for our students and adults.
Dale Merten
Toledo Tel
Dale Merten is the VP/COO of ToledoTel, the leading rural broadband provider in Washington Sate.  Dale's career in Telecom spans over four decades.  He is married to Tina Merten and they will celebrate 42 years in march of 2022.  They own and live on a ranch in the Toledo area.
Mike Alexander
Security State Bank
Mike has been with Security State Bank (SSB) since 1997.  He is currently a Trust Officer since 2013, with the SSB Trust Department.  He has a B.A. in Business Administration, Business Management from Washington State University.  Mike was born and raised in Chehalis.  Along with serving on the Board of Lewis EDC, he's a past president of Lewis County Chapter of Washington Farm Forestry Association and is a school board commission member for Saint Joseph School.
Jereme Chapman
KPFF Consulting Engineers & JT Mundi from Kodenum, Inc.
Jereme is a Professional Licensed Land Surveyor and Principal at KPFF Consulting Engineers in Lacey, Washington where he has worked for the past 15 years, he also serves as a Fire Commissioner for Lewis County Fire District #13. He lives in the Boistfort Valley area with his wife, Misty, and two daughters Bailey and Carmen.
Ben Kostick
Ben M. Kostick C.P.A.
Ben has owned Ben Kostick CPA, Inc. for 25 years and has over 40 years of experience in accounting.
Paul Ericson
Shelton Lam & Deck
Paul Ericson is the President and co-owner of Shelton Structures, Inc. located in Chehalis, WA.  Paul serves as Port Commissioner District 2, is a board member of the Economic Alliance and Industrial Commission as well as a proud member of the Chehalis Activators.
Heidi Pehl
I-5 Auto Group
Heidi Pehl is the owner of the I-5 Auto Group which operates Awesome Ford & RV, I-5 Toyota, Awesome Chevrolet Buick and I-5 Chrysler Jeep Dodge Ram Fiat all in Chehalis, and VW of Olympia in Olympia. Heidi grew up in Chehalis and has been married to Bob Pehl for 30 years. Bob is the Senior Vice President of The Pehl Group with Raymond James also in Chehalis. They have one son Robert who is the General Manager of the I-5 Auto Group.
Reggie Hamilton
Hamilton Rock & Contracting
Reggie Hamilton is semi-retired, he has a background in land acquisitions, land management, building projects, and groundwork consulting
Shane Wood
TwinStar Credit Union
Business Services Manager
Commercial Lending Specialist
I have worked for 14 years at TwinStar Credit union and currently do commercial accounts and loans there. I serve in a variety of boards and committees in the Lewis County community. I am happily married to my wife Stephanie and we have two beautiful kids, Kyler and Kyndal. In my free time I enjoy traveling and camping with my family. Our favorite vacation spot is Disneyland. I also volunteer as a coach for my kid's teams.
Samantha Magnuson
Lewis County Coffee & Nomad Truck and SUV Outfitters
Co-Owner
Born and raised on an organic dairy farm outside of Chehalis, Samantha is a WF West Graduate and longtime supporter of Lewis County. After a corporate career with LINE-X Protective Coatings, Samantha left to dedicate fulltime to her family's businesses, Lewis County Coffee Company and Nomad Truck and SUV Outfitters. Samantha enjoys time with family and friends and all the beauty the Pacific Northwest has to offer, you can find her and her husband Spike hiking, fishing, or adventuring somewhere outdoors!
Tyler McCallum
McCallum Rock Drilling
President
Tyler is a graduate of WF West High School and the University of Washington. He was born and raised in Chehalis and grew up heavily involved in sports and the community. Tyler and his wife Callie have two kids and are building a home in Chehalis. They want to invest and support the community they grew up in and continue to help make Lewis County a great place to live and raise a family.
In 2016, Tyler and his sister, Hayley Coronel, purchased McCallum Rock Drilling from their parents. In the six years of ownership, they have grown the business from 30 employees to well over 100, operating throughout the entire Pacific Northwest. Although the region they cover is large, a majority of McCallum's employees live in Lewis County.
In 2021, McCallum purchased a warehouse property in the Chehalis Industrial Park. This purchase has allowed McCallum Rock Drilling to grow and offer good paying careers to people in Lewis County for many years to come.
Darin Goss
Chief Executive Providence Swedish South Puget Sound
Darin Goss serves as the Chief Executive for Providence Swedish South Puget Sound, accountable for Centralia Hospital.  He has appreciated learning more about Lewis County since his arrival in late 2020. Prior, he served as the Chief Operating Officer with Providence in Burbank, California. Darin started his healthcare career at Mayo Clinic in Arizona serving in a variety of leadership roles.
 Darin and his wife, Gabby, love the outdoors and are enjoying being empty nesters.  He is honored to work for the Centralia team.
Amanda Singleton
Rainier Connect
Customer Care and Support Manager
Amanda Singleton is the Customer Care and Support Manager at Rainier Connect. For more than 20 years, she has enjoyed the fast-pace growth and innovation of the Internet Service Provider industry. She connects with community leaders to strategically improve the ways we connect and do business from home and the office. Amanda also serves on the Centralia-Chehalis Chamber of Commerce Board and the Boys & Girls Club of Lewis County Board.
Jonathan Hubbert
Powersports Northwest
President
Jonathan Hubbert is President of Powersports Northwest located in Centralia. He is native to Lewis County and is a 2007 graduate from W.F West High School. Jon is married to Maggi Hubbert who is a 5th grade teacher in Chehalis, and they have a 3-year-old daughter named Hudson. He serves on the Centralia College Foundation Board, The Boys and Girls Club of Lewis County and is a 3rd generation Alliance Board member.
In memory of his hard work and dedication
Gary Stamper
Lewis County Commissioner
Gary Stamper was the District #3 Commissioner for Lewis County, where he was been committed to serving residents by promoting responsible economic growth and family-wage jobs while maintaining the rural lifestyle that Lewis County residents and visitors expect, since 2015. Gary loved traveling, spending time with his children and grandchildren, and taking walks with his spouse Bobbi Barnes and their two Bernadoodle dogs.